Navigation:
Home
> White Mountain Outfitters - Testimonials
White Mountain Outfitters - Testimonials
Here's what a few of our customers have had to say about us. Have a testimonial of your own to share? Click Here fill out our short testimonial form.
James Hughes
Fall 2022 - Seattle, WA
I have done Fall archery elk hunts with White Mountain Outfitters the last two years in a row, and they were outstanding. Set in the mountains of western Montana, the camp was well organized, well provisioned, well run and stocked with hearty meals. This freed me from distractions and I was fully involved in each day's hunt. The guiding was excellent, based on the expert understanding of the game and also on good communication with the hunters. In particular, Todd is a great listener and also a sympathetic pace setter in the mountains. I could've written the same recommendations last year after my first hunt with them. But my hunt this year, where I took a big five point bull elk, confirmed my positive assessments. The setting was a high mountain meadow. Todd called up a bull and then over the course of an hour called him in to a natural ambush where I took the shot for a quick, clean kill. The meat was properly handled with a minimum of waste. We operated well together. As a result my family has enough red meat for the next year!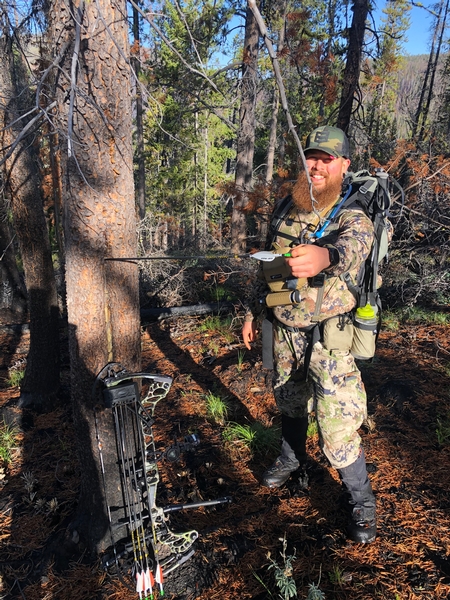 Derek Schneider
2022 Archery Elj - Waukesha, WI
From beginning of the trip to the end, Todd did a great job. This was my first archery elk experience and he did all he could do to coach me through the ins and outs. We broke down every situation and figured out how I should of handled it and he didn't even give me too much grief when I had a huge case of bull fever and missed the bull at under 20 yards! The whole experience was better than I expected and I would recommend a trip with White Mountain Outfitters to anyone. I know I'll be going back.
Larry Duncan
Fall 2021 - Auburn, WA
I've wanted to hunt with an outfitter for years and this year it happened. The horse ride in was just as easy as Todd said it would be. The camp was set up nice with our sleeping tent just a short walk to the cook tent for morning coffee and good home cooked food. One of Montana's biggest fire had forced him to relocate. With no say in the matter he was told this new area was what he had to work with. With little knowledge of this new area Todd put us on a herd bull with in the first 3 hours of the hunt. It was me that felt I couldn't make the 50+ yard shot. Todd took it in stride and we kept on hunting. With the lack of vocal elk and very little new sign, Todd worked hard all week. It was on the last day it happened. This nice 4 point was called in to less than 20 yards. My first elk was dead within 60 yard of ware I shot. Great crew great time. The hunt was everything I could ask for, to get my first elk.
John S.
Archery Elk 2020 - Minneapolis, Minnesota
Hello Todd, thanks again for a great Elk hunt in September. I enjoyed more close encounters than in any previous years. Much appreciate your hunting style and your keen senses and ability to read my favorite quarry. If my health holds up I would like to do the same hunt next September with you. Good health to you and your family! Will keep in touch!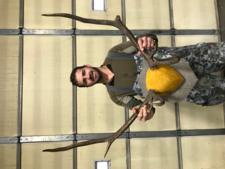 Cory Koenig
Fall 2018 - Charlotte, NC
From my first contact with Todd via email all the way through the end of the trip, I had an amazing experience with White Mountain Outfitters. We were looking for a true western style, public land, archery, rut elk hunt and that's exactly what they delivered. Wall tents and accommodations were nice, camp food was excellent and Todd and his guides did everything they could to make our hunting experience top notch. It was my first time on a horse and I can say that the horses were gentle and easy to get around on. On top of all that, the hunting was great. In fact, we had a bull screaming in our faces the first hour on our first morning of the hunt and by the end week, my guide called in a bugling bull to within 30 yards. I can't thank Todd, Jimmy, Frank and the rest of the crew enough. I can't recommend them enough and I personally can't wait to get back out there!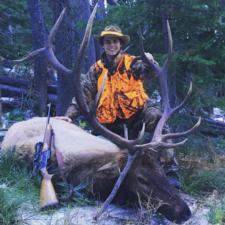 Nicholas Ebert
Fall 2017 - Chaska, Minnesota
If you are looking for a real elk hunt of a lifetime, look no further than Todd Earp and his guides at White Mountain Outfitters. To put it simply, this trip is "the real deal," Jerimiah Johnson style hunt where one shoots elk, jumps creeks on horseback, stares off into the ominous mountain wilderness, and pretends to a traditional, American frontiersman. This past fall, my father took me out for on my first elk hunt, and as a kid who grew up watching Jerimiah Johnson and Grizzly Adams, I couldn't have been more pleased with our trip. Todd's hunts are first class, as he has gentle and obedient horses, a first-class campsite, excellent meals, and an extensive knowledge of the area's elk herd. He and his guides had no difficulty finding and tracking bulls no matter the conditions, whether it be clear, rain, sleet, or snow. I do, however, strongly recommend to be in the best shape as possible and to practice your long-distance, sharp-shooting capabilities, as both will greatly enhance your experience and the guides' abilities to get you into elk. That being said, Todd and his staff can accommodate for any hunting style that you require, from lugging up mountains, hunting off horseback, or sitting by a little fire and drinking coffee. Either way, this outfit will find you elk. I am so excited to return next year and pretend to be a mountain man. Thank you, Todd and White Mountain Outfitters, for a memorable experience that I'll remember for life. I'll see you next Fall!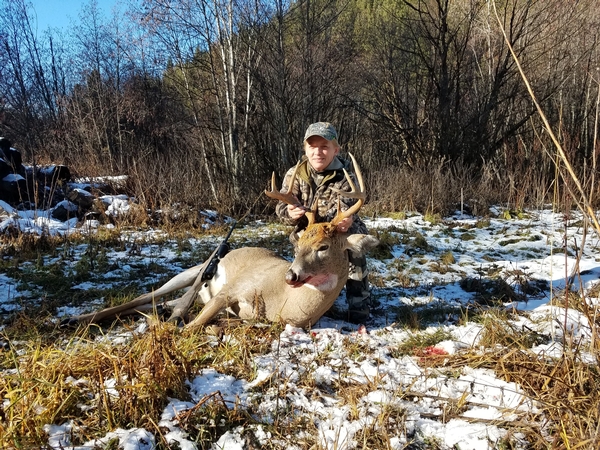 Sherrie Locke
Fall 2017 - Montana
When we arrived I wasn't sure what to expect as my husband David Locke had always hunted with Todd Earp at White Mt. Outfitters, and always done very well. Happy to say it was one of the best guided hunts I have ever been on, the care that was taken and consideration of a slight asthma condition was awesome, I loved everything about it, the horse back riding through the creek and hiking, looking for that big buck, to watching a flock of turkeys in the area running all around, to the big day of getting my first white tail a four by four! you were right Todd and David you have to be fast!!!! Thank you Todd for Making this a memorable Experience!!!!! Your Awesome!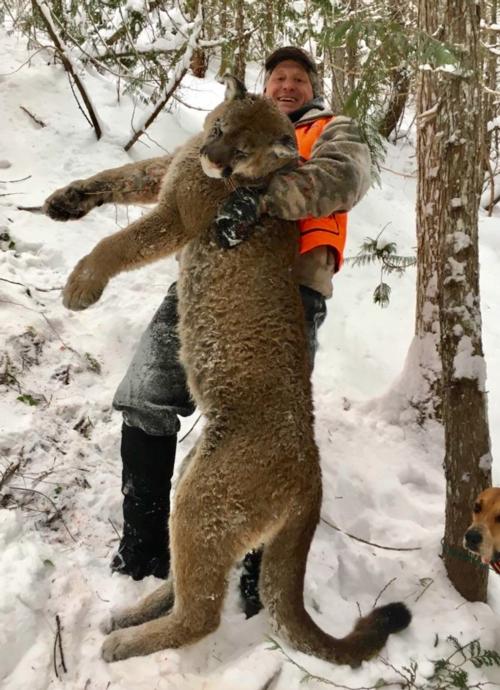 Randy J. Koliha
Winter 2016/17 Billing's, Montana
Another Oustanding Mountain Lion Hunt with Mr. Todd Earp from White Mountain Outfitters. We got this Big Beautiful Tom on the first day of the Hunt. Todd's dogs King, Griz, and Aspen are the Best! We had such a Great time! I got to go Wolf hunting the next day as a Bonus! It was a Hoot! The Scenery was Breathtaking, the Chase was Exciting, and the Acccomodations were Excellent! If a Mountain Lion hunt is on your bucket list give Todd Earp a call. He is the Best! I cannot recommend a better guide! He gets er done! Thank you Todd for another Awesome Adventure. I definitely will be back!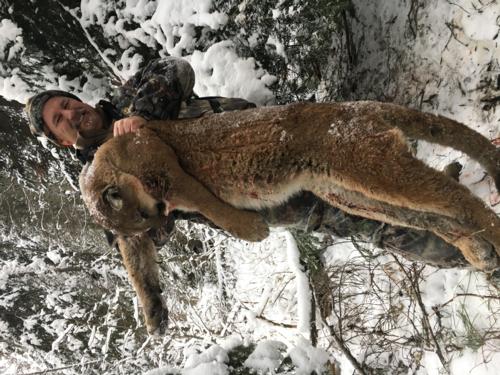 Dale Schwark
2016 Winter - Milwaukee, WI
I have been west several times but have never had an outfitter/guide that was as calm and knowledgeable as Todd. He knew the area and the cats and was a step ahead of them. I can easily say that it was my most enjoyable trip, one that I will never forget for its excitement and quality. I did manage to harvest a nice cat and made a great friend in the process. Todd is a great outfitter/guide and I am now trying to figure out what my next hunt with Todd and White Mountain Outfitters will be.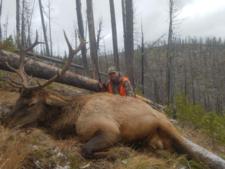 Adam Stokes
Fall 2016 - Reno, NV
WHAT AN AMAZING SUCCESSFUL HUNT!!! WOW! I honestly didn't know what to expect being my first trip to Montana and Todd provided everything we needed. Knowledgeable, reliable, and the stock was amazing! Though I have horses my handicapped dad had no experience on a horse. The well trained horses were easy to ride in and out even for him. I am a avid hunter and Todd had no problem finding two MASSIVE BULLS at least 5 miles out before I could even pull out my binos. Having a 300 win mag he got me into a comfortable shot that I knew if I could avoid getting to excited I could make. 508 yards 4 shots and boom! Dropped my very first Elk which ended up being an amazing 6X6 BIG MONTANA BULL! By the way, it was the FIRST DAY OUT! It was clear Todd and White Mountain Outfitters knew exactly what to do! I found White Moutain Outfitters at the Reno Sheep show. Out of 3 States and 25 outfitters we could have chosen, I can honestly say we picked the best! By the way the price was less than most! THANK YOU WHITE MOUNTAIN OUTFITTERS AND TODD EARP! See you again soon my new friend! Adam and Bill Stokes.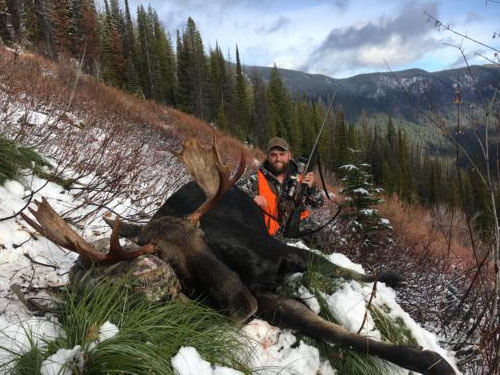 Morgan Evans
I drew an incredibly hard to get Moose Tag and called Todd Earp. He was top notch in everything he did. I felt that he wanted to work hard for me to take advantage of an opportunity I will likely never get again in my lifetime. We didn't have great hunting conditions because it was pretty warm but we capitalized because Todd was prepared for anything. I ended up with a great Bull. An amazing hunt, great experience, and Todd is a great guide.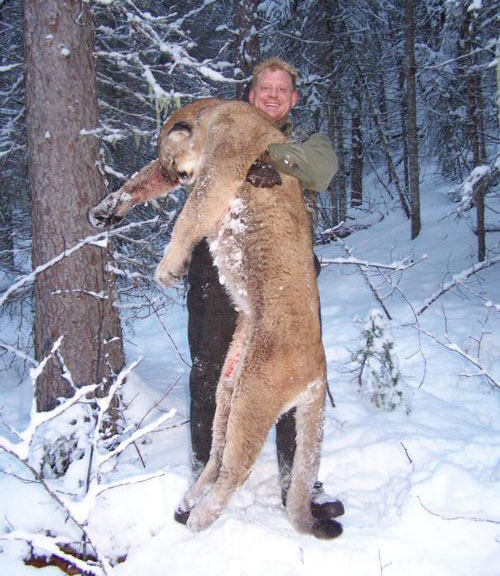 Randy J. Koliha
2015/16 Winter Hunt -
I have hunted a few times with Todd Earp and he is the Real Deal. Todd puts a lot of hard work and effort into each hunt and gives you a 110% every time. He is very passionate, hard working, honest, and organized. Every one of my experiences have been First Class. Todd is a "Class Act" and runs a "Top Notch" outfit. I look forward to hunting with Todd again soon! If you want a "Great" hunt and a determined, energetic outfitter give Todd Earp a call!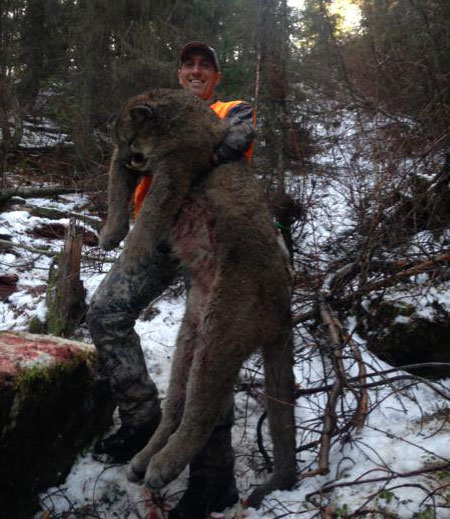 Jeff Karvandi
Winter 2014 - Missoula
My experience with White Mountain Outfitters was fantastic! Hunting for me is not just about the outcome of a hunt, but it's the thrill of the adventure. Todd and his crew provided both for me through a memorable hunt that I will remember for a lifetime. Thank you guys.
Send Us A Comment
To our past clients: We appreciate your comments and if you would, fill out the form with comments and a photo about your experience at White Mountain Outfitters. Fields marked with * are required. Please enter the Name field how you want your name to read on our website (Examples: John Doe, J. Doe, John D., John Doe Corporation).